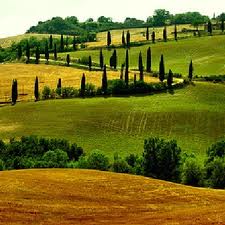 Rolling green hills, world class wine, and art to delight. Food that stimulates all five senses, tantalizing smells awakening your taste buds and ingraining the feast in your memory for years to come. Sunflowers sprinkled across the vast, picture-perfect canvas that society has come to recognize as the one and only Tuscany. Medieval "castle-towns" weaved throughout the region, each offering a unique set of cultural heritage and people filled with kindness and love.
Please join Sherry Smith and Dina Georgoulis on their second journey across the Atlantic for a week of cultural exploration, self discovery, yoga bliss, community, and of course, FUN! The week-long retreat will encompass the exploration of Florence, San Gimignano, Siena, Cortona and Assisi. The yoga retreat's home-base 'agroturismo' is tucked into the charming Tuscan countryside. This ancient farm boasts 30 magical and magnificent acres. You will be surrounded by vineyards, olive groves, walking paths, a pristine pool to lounge by, and a picture-perfect view of the medieval towers of the town of San Gimignano! It's located just outside of stunning San Gimingnano and a stone's throw from many other towns in the Chianti region of Tuscany. Easily reachable, however, Croce di Bibiano ensures the slowing of time as you unwind in a perfect retreat setting. Get your heart going in the heart of Tuscany as you can wake up to invigorating sun salutations under "la bella luce", the beautiful light, and settle into your evenings with candlelight yoga and meditation designed to relax, restore and renew you.
Enjoy a balance between scheduled activities, an enriching group setting and free time to roam on your own! You do not need to be an experienced yogi or world traveler to join … singles and couples welcome! Just bring your amazing self and open heart and mind! Come experience the Tuscan light all around you and continue to journey into the endless light within.
"LIFE GIVES YOU A THOUSAND CHANCES … ALL YOU HAVE TO DO IS TAKE ONE. ~Frances Mayes
For more details and to sign up visit www.retreatjourneys.com