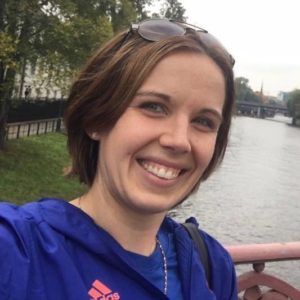 A longtime student Staisy Kibart has been building relationships and committing to herself in our four walls for years. Watching her grow has been such a blessing to all of us. We asked her to share more about her journey.
How has yoga and meditation changed your life?
As someone who enjoys running, especially running marathons and spending time at the gym on the elliptical or strength training, yoga provides a perfect balance to all the miles I log and the weights I lift. Yoga helps me find more flexibility in all my tight "runner muscles" and it has even helped me at times to make a moving meditation out of an hour on the elliptical. I am also a Type 1 diabetic and practicing yoga has helped me to maintain greater control of my blood sugar and maintain a healthy lifestyle. I truly feel that I have been able to prevent injuries or complications from diabetes because of my yoga practice.
Yoga has allowed me to find more joy in the present moment rather than dwelling on the past or worrying about the future. Yoga has helped me to be more open to change and has helped me to let go of insecurities, negativity and fears that used to hold me back. And as a sometimes stressed out middle school music teacher, yoga and meditation provide faithful reminders to slow down, breathe, and stop worrying about all the things that sometimes seem out of my control.  It is partly because of yoga that I feel more confident about myself, more able to take on the challenges that life can sometimes throw at me, and greater confidence to seek out new opportunities to grow and improve myself. Yoga has helped me to find more joy in my life, to be more grateful for life's amazing blessings, to choose love over fear any chance I get and to be the most amazing Staisy that I can be.
Yoga has been with me through some of the best moments of my life, as well as some of the most challenging and upsetting. I truly believe that it is because of yoga that I have had the ability to navigate the ups and downs of life in a safe and healthy way. I would not be the woman, teacher, student, runner, daughter, traveler, or friend I am today without having my yoga practice.
Why do you practice at Bella Prana?
I would have to say that my main reason for practicing at the studio are the amazing teachers that I have had the pleasure of practicing with, especially Tina, Ngoc, and Roni. Each of them have truly taken an interest in helping me to get the most out of my practice. They've taken time to talk to me and get to know me on a personal level and they have helped me to develop more confidence and inner strength both on and off the mat. These three women demonstrate such incredible love and passion for what they do. They show love and concern for their students and they make each class fun, challenging and honestly, a true blessing to be a part of.
To me, "home" is any place where I feel accepted, respected, safe, and loved. Because of Roni, Tina, and Ngoc, I feel so appreciated, accepted, and loved when I practice at Bella Prana. They make Bella Prana feel like home.  – Staisy, Bella Prana Yoga student, Tampa Florida