"Silence is the language of god,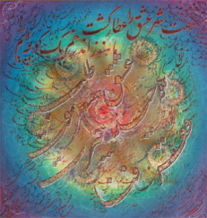 all else is poor translation."
"I have lived on the lip
of insanity, wanting to know reasons,
knocking on a door. It opens.
I've been knocking from the inside."
"In Silence there is eloquence. Stop weaving and see how the pattern improves."
"You were born with wings, why prefer to crawl through life?"
"What you seek is seeking you."
"When you do things from your soul, you feel a river moving in you, a joy."
"If you are irritated by every rub, how will you be polished?"
"Don't grieve. Anything you lose comes round in another form."
"The wound is the place where the Light enters you."
"Let the beauty we love be what we do. There are hundreds of ways to kneel and kiss the ground."
"My soul is from elsewhere, I'm sure of that, and I intend to end up there."
"That which God said to the rose, and caused it to laugh in full-blown beauty, He said to my heart, and made it a hundred times more beautiful."
"Sell your cleverness and buy bewilderment."
"I want to sing like the birds sing, not worrying about who hears or what they think."
Mysteries are not to be solved: The eye goes blind
when it only wants to see why.
"Appear as you are. Be as you appear."
"Be like melting snow — wash yourself of yourself."
"All people on the planet are children, except for a very few.
No one is grown up except those free of desire."
"Give up to grace. The ocean takes care of each wave 'til it gets to shore. You need more help than you know."
"You are a volume in the divine book
A mirror to the power that created the universe rumi
Whatever you want, ask it of yourself
Whatever you're looking for can only be found
inside of you."
"When someone is counting out
gold for you, don't look at your hands,
or the gold. Look at the giver."
"You are the Truth from foot to brow. Now, what else would you like to know?"
A voice inside the beat says, "I know you're tired, but come. This is the way."
"This being human is a guest house. Every morning is a new arrival. A joy, a depression, a meanness, some momentary awareness comes as an unexpected visitor…Welcome and entertain them all. Treat each guest honorably. The dark thought, the shame, the malice, meet them at the door laughing, and invite them in. Be grateful for whoever comes, because each has been sent as a guide from beyond."
"Your hand opens and closes, opens and closes. If it were always a fist or always stretched open, you would be paralyzed. Your deepest presence is in every small contracting and expanding, the two as beautifully balanced and coordinated as birds' wings."
Closing Poem "Return to the Root of the Root of your Soul"
For more quotes and poems by Rumi