Collective Training
Flexible and Affordable

Your entire training for $750

3 Payment options available

50 Hours of training on demand

150 hours live online or in person

Entire training available virtually

Unlimited virtual yoga classes

Study Anatomy, History, Meditation

Learn from experts in their field

Make up easily if you miss
Diverse teaching staff
Yoga Alliance Certified
Come as you are
This training just rocks. Classes, lectures, staff, all on point.
Tim
We learned topics like the business of yoga, so I felt ready make a living in the wellness world.
Melanie
The training environment was everything I could have wanted. The community is exceptional.
Bill
I didn't know if I wanted to be a teacher, but it helped me grow immensely in my own practice.
Jason
I loved the diversity of the teaching staff, they were so passionate.
Sabrina
The connections you make are incredible, there is a such a strong community.
Hannah
When you pay in full up front you get a spectacular deal of $750 for your entire 200hr training! But if you choose a payments plan we have two options to help make your training as accessible as possible. You will get unlimited access to your virtual lectures immediately and access to your unlimited online yoga in your welcome email!
Need to break up the payments? You got it! You will sign up with a $150 deposit and can then make 2 payments of $323 for a total tuition cost of $796. Payments are made 30 days apart. You will get unlimited access to your virtual lectures immediately and access to your unlimited online yoga in your welcome email!
We get it, breaking up the tuition payments can be super helpful. With this option you will sign up with a $150 deposit and can then make 5 payments of $149 for a total tuition cost of $895. You will get unlimited access to your virtual lectures immediately and access to your unlimited online yoga in your welcome email!
How do I sign up?
To sign up for this training you will choose the payment plan above that works for you. You MUST sign up online to ensure you have aceess to your virtual content. You cannot sign up in the studio. If you believe you have a special circumstance please email us.
You have the option to pay in full and receive a discount, or you can choose a payment plan of  2 or 5 payments. Once you have purchased the training at the link above you will be all signed up and have immediate access to your virtual lectures!
We will reach out to welcome you via email to help you prepare for your training and we will give you unlimited access to our virtual studio with over 500 classes to choose from. Once signed up you will have access to your online lectures immediately.
We are so excited for you to join us for this experience. It will change your life and we will be here every step of the way.
When does training begin?
Your training begins right away if you choose! Your 50 hours of virtual content will become available immediately when you sign up. You will begin with your first lecture on the History of Yoga + Yoga Styles at your own convenience.
The next live intensive will begin Feburay 17th – 20th. We have designed the order of your virtual content to lay the ground work for you, to help prepare you whether you  join us live or in person. Please remember that these intensives are recorded in case you need to miss anything.
We also ask that you practice regularly in between intesives to actively integrate what you learn each month.
Four Day Intensive Dates for 2022:
February 17, 18, 19, 20
April 7, 8, 9, 10
June 16, 17, 18, 19
August 18, 19, 20, 21
October 20, 21, 22, 23
Thursdays 4:00pm – 9:00pm
Friday 10:30am – 6:30pm (1 hour lunch break at noon)
Saturday 8:00am – 6:30pm (1.5 hour lunch break at noon)
Sunday 8:00am – 6:30pm (1.5 hour lunch break at noon)
What will we be studying?
Your training syllabus is extremely comprehesive. You will be exposed to many styles of yoga such as:
Vinyasa Flow
Power Yoga
Ashtanga
Hot 26 Yoga
Beginners
Restorative
Gentle
Yin Yoga
Prenatal Yoga
Kids Yoga
and more!
The content of your training will be diverse to ensure that you have a full appreciation of the history of this practice and the meditative aspects that help to make it so powerful. You will learn topics such as:
The History of Yoga
The Yoga Sūtras
Yamas and Niyamas
Chanting
Meditation
Cakra and Kosa's
Anatomy
Posture Breakdowns
How to Teach with Props
How to Sequence Postures
Trauma Informed Training
Business of Yoga
Voice of a Teacher
How to Theme a Yoga Class
How to teach Meditation
Hand Mudras
and more!
What dates will the training meet?
You are able to complete 50 hours virtually on your own schedule. For the other 150 hours we will have five four day long intensives, every other month, that allow you to join us live from anywhere in the world, or you can attend in person at the Bella Prāṇa Collective studio location as in-person spots are available. These intensives will be streamed live and also recorded. If you miss one you can watch it virtually or you can wait to join live again when those topics come back around. The training and intensives run consistently, so you always have the option to wait and join live at a future one. If you don't want to wait, the recordings will be made available.
Four Day Intensive Dates for 2022:
February 17, 18, 19, 20
April 7, 8, 9, 10
June 16, 17, 18, 19
August 18, 19, 20, 21
October 20, 21, 22, 23
Thursdays 4:00pm – 9:00pm
Friday 10:30am – 6:30pm (1 hour lunch break at noon)
Saturday 8:00am – 6:30pm (1.5 hour lunch break at noon)
Sunday 8:00am – 6:30pm (1.5 hour lunch break at noon)
Is the Training Yoga Alliance Certified?
Yes! We are a Yoga Alliance approved 200hr training program. During this training, you will learn how to register yourself as a Yoga Alliance certified instructor.
What if I need to miss anything?
Thanks to the virtual option you can make up any missed lectures via virtually, on your own time! This training is designed to work with your life and family. You have the option to attend live intensives, but if you need to miss anything you can watch the videos on your own time. If you choose to take the entire 200hr training on demand virtually, that is an option as well!
Our goal is to provide you the option to spend as much time as you choose connecting and learning live, while also knowing that you have the flexiblility to make this training adapt with your life.
Who will be teaching us?
You will have a diverse teaching staff from all over the country. We will epose you to experts in their field to ensure you experience a wide range of teaching philosophy's and styles. Within that teaching staff you will have a few lead instructors who you will spend a good amount of time with. Below are some of the instructors you will experience both in your virtual content and live at your intensives.
Jessica Lynne Trese traveled to India to study at KPJAYI with R. Sharath Jois in Mysore, India and was blessed with the Authorization to teach Ashtanga Yoga in 2013. Jessica is passionate 500hr instructor who dedicated her life to sharing the practice of Ashtanga Yoga. She will lead you on many topics including history, philosophy, chanting, meditation and Ashtanga Yoga.
Ashley Adams is the founder of Black Prāṇa Magazine and dedicated herself to changing the landscape of yoga instructors in America. After training over 4,000 instructors of color, she merged with the Collective, so that we can make a global impact together. Ashley is a 500hr instructor known for her laid back style and hip hop yoga classes. Some topics you will explore with Ashley are the Virtual Business of Yoga, 12 Laws of the Universe, Diversity in Wellness Spaces and more.
Tina Tidwell Bedore is a former professional Dancer and an owner at the Bella Prāṇa Collective. She is a 500hr instructor with certifications in Meditation, Prenatal, Yin, Seniors, Yoga as Therapy, Yoga and Ayurveda, Restorative and Kids Yoga, to name a few. You will join Tina for topics such as Sequencing, How to Teach with Props, Teaching Pregnant Students, Posture Breakdowns and more.
Megan Weathers is Reiki Master and 500hr instructor who specializes in Adaptive Yoga and is certified in the Hatha Yoga style. Megan works with students with disabilities and focuses on Restorative, Gentle, and Yin yoga styles. Megan will share her expertise on each of those styles, meditation, hand mudras, and more.
Roni Harris is a 500hr instructor and the Founder and Owner of the Bella Prāṇa Collective. After first being in ministry, she then spent over a decade as a studio owner and saught after yoga teacher. Now living in Denver, Colorado Roni will share with you about the power of themeing a yoga class to bring greater meaning, the brick and mortor Business of Yoga for those who hope to make a living in wellness, and will join you for various topics during your live intesives.
These are only a few of the many instructors you will be learning from throughout your training experience. We are committed to exposing you to some of the most qualified and passionate instructors in their fields.
How long is the training program?
This is a 200hr training program that will take 10 months to complete. There are 50 hours of virtual lecture and 150 hours of live intensives. You will complete 5 intensives every other month, either virtually or live with us in-person as space are available. If you need to miss an intensive, no worries, we will record them and make those videos available to you.
During the months in between your intensives you will have the 50 hours of on demand lectures to complete at your own pace as well as physical yoga practices to supplement what you are learning in those lectures.
You may take longer than 10 months to complete if needed. We find that 10 months is an ideal length of time to allow the training to work with your family and lifestyle, while also allowing time for the knowledge to build and integrate, as well as time to practice teach.
Once you have completed the training you have up to one year to turn in your graduation materials and be approved to recieve your certificate.
How much does the program cost?
The total cost of the tuition is $750 when paid in full! However, payment plans are available, see below.
There is a $150 non-refundable deposit. If you choose a payment plan to reserve your space and then payments are made 30 days apart. You must sign up online and pay online, you will not able to make payments in the studio. If you have any questions at all about your payment options, please email [email protected]
$750 total when paid in full, up front
$796 total with a $150 deposit and 2 payments of $323
$895 total with a $150 deposit and 5 payments of $149
If you do not make a payment you will not be able to access all of the content until that payment is made.
Return Policy: Your $150 deposit is non-refundable. Once you have been given access to the content of our training there are no refunds.
Whom should I contact with questions?
If you have any questions at all, please reach out to us at [email protected]. We are here to help guide and support you throughout this entire experience.
Attending in-person and virtual?
All students will have 50 hours of virtual lectures that are on demand to take at your own pace. Then 150 hours of the training are held in person at our studio, and is also streamed live virtually. This means that you could attend entirely virtually if you chose, but you have the option to request to attend in-person.
In-person spots are first come first serve, so we will reach out to request your RSVP and let you know as each intensive approaches.
Who should sign up for this training?
This is a Vinyasa Flow based training that will also expose you to many styles of yoga. This training is wonderful for those who would like to teach yoga in their communities.
This training is also open to students who would like to expand their practice and knowledge. You do not have to want to teach yoga to expereince this deep dive into the practice that you love. Though you will be expected to partcipate in every aspect of the training as you learn how to teach others.
You do not need to be able to achieve fancy postures or be super flexible. This training is for real people and real bodies. Our focus is on teaching you how to instruct others, so we ask that you do have a personal practice and are able to practice confidently and safely on your own.
· Your lead instructors ·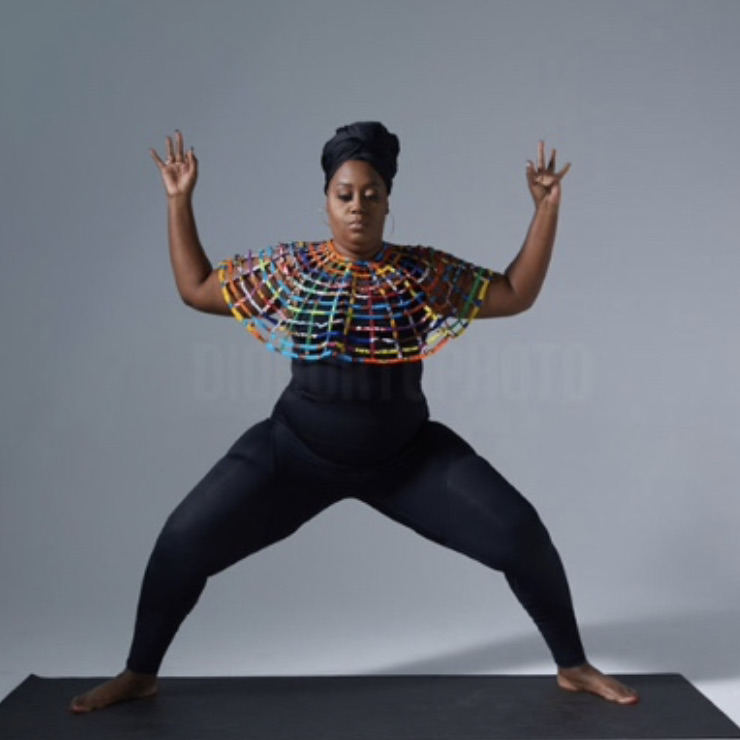 Ashley Adams
Progressive, funny, and 100% real, Ashley Adams is the founder of Black Prāṇa Magazine and a 500hr instructor. With family history hailing from the small beach town of Tarpon Springs, Florida, this business tycoon, mother, and eldest sister of four knew fate led her to purpose when doing "the work" didn't quite feel like working. Ashley says her success is rooted in frustration. In response to that frustration, Black Prāṇa Magazine was born. The only publication of its kind, BPM exists because of the lack of representation for people of color in the yoga world. Ashley also made the conscious decision to lower the barrier to entry when it comes to people of color obtaining their certification to teach yoga. To date, we have successfully trained over 4,000 yoga professionals.
Tina Tidwell
Tina Tidwell, an E-RYT 500hr instructor and owner at Bella Prāṇa, graduated from USF with a degree in Dance and Psychology, has performed in France, Florida, Ohio, LA and NYC and was awarded the Arts Council of Hillsborough County's Individual Artist Grant. She found yoga, through dance, after studying with Michelle Jacobi in Paris. Tina received her 200 RYT (Ashtanga) at Yoga on High with Tim Miller and Maty Ezraty; is certified in Prenatal, Yin, Seniors, Restorative and Kids through Asheville Yoga Center's 500 RYT with Libby Hinsley, David Keil, Doug Keller and Stephanie Keach. She challenges the body in mindful movement while using the breath as the musical cue, has worked with professional athletes and taught Yoga for Performing Artists at PAMA, USF's Piano Symposium, USF's Fit to Play and USF Dance.
· Our Mission ·
The Bella Prāṇa Collective believes that wellness shouldn't be a luxury, that wholeness cannot exist without equity, and that every person deserves access to healing experiences. We are a gathering place, a collective of people who participate in their own healing and celebrate each other as we are. We are powered by the vision of a world filled with compassion and built on equity. We seek to be awakened through the ancient healing practices of yoga and meditation gifted to us by the ancestors of South Asia and yogis all over the world. We aren't interested in anything less than your imperfect self, because we all have things to give, and things to unlearn. We are driven by curiosity, reject the pursuit of perfection, and will boldly speak to anything that does not foster community. It does not matter who you are, how you identify, where you are from, what you do or who you love. As you are in this moment, and every version you will become – we want to be your home.