This November, we're showing off Megan Weathers, one of Bella Prana's very first teachers! Megan has such loving energy and a sweet softness that makes her presence and yoga practice so healing. We are so grateful that she shares her knowledge with our Bella Prana community. You'll find her mainly teaching Yin and Restorative! Read below to hear about Megan's yoga journey.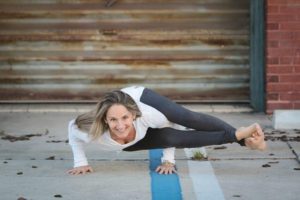 It started as simple mistake.  I was to go to a studio on MacDill that a friend recommended to me because they were looking for instructors, and I was looking to teach.  She didn't know the name, just that it was somewhere on MacDill…so the only place I could find was Bella Prana.  Scared to death, and after much coaxing from my former husband, I took Roni's class, introduced myself to her after, and the rest is history.  When I went to thank my friend for the recommendation, she said she didn't know Bella Prana or Roni.  She meant an entirely different space.  Bella Prana had a plan for me.
My journey started over 20 years ago after having twin babies.  I was so stressed and yoga was the perfect combination to give my busy mind a rest and my tired body a boost:)  I started with gentle classes, and noticed I was building a foundational strength of mind, body and spirit within me. Today, my daily practice still consists of the deep flexibility and powerful strength building of gentle yoga styles, but I sneak in a few handstands and arm balances to make sure it's working;)  The call to enroll in 
teacher
 training did not come until 10ish years later, at the age of 40.  I thought it was to "deepen my practice", a great distraction from my full time parent roll…but secretly it was to face a belief I wasn't enough…oh, and trust issues…and so many other things!!!  With the tender care of my teachers, I learned that we are all enough, I could break thru limiting beliefs about myself, others and the world I live in, and I was exactly where I was meant to be.  Meditation practice came later, and I was initiated by Light Walkins into the Vedic tradition in 2011.  Committing to a daily meditation practice gives my mind and body the rest it needs from the demands of a teaching schedule, but  when I pay close attention, it quietly whispers everything is forgivable, miracles are everywhere, and absolutely anything is possible.  Jai Guru Deva:)
Bella Prana is my home and my family here in Tampa.  I've loved witnessing her grow into the entity she has become, and develop us all in her wake. Roni's (and now Tina and Griselda's!) unwavering love for every soul who walks thru her doors has fostered a bond and experience I can't quite articulate, so I just call it being "Slomanized".  I am forever changed and humbled as a part of this place.  We Bella Instructors, Angels, and Owners have one common intention… to inspire people onto the mat.  We support and love and offer one another everything we have to help that happen.  It has been my life's work, and the gratitude I feel for this space is immeasurable. That is why I teach here.
I wish you all the Love, Laughter, and Many Blessings that Bella Prana has brought to me,
Namaste