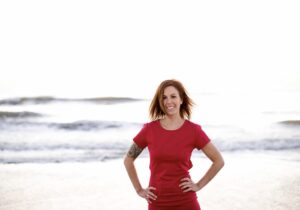 There is always a little bit more sunshine when Susie steps in the studio. From her smile, her personality, her devotion to help others and her intuition, she leads from her heart to the heart of others. We are delighted to highlight Susie Rokosch as our Teacher of the Month for October 2020.
When/how did you discover yoga?
I came to yoga in my early 30's. I had undergone an invasive spinal surgery at 29, and I had a really challenging recovery. I had been living in severe chronic for years prior to surgery, and though I had reached a relatively manageable level of pain years later – I was nevertheless still very much suffering. Yoga gave me an unexpected lifeline, and I grabbed on to it with every ounce of my being.
I will never forget my first yoga class. I had no idea what was happening, but I knew on a deep level that I was in less physical pain than I had been in for years, and I also knew that I felt a deeper sense of calm and acceptance than I had ever remembered feeling in my life.
What do you love about teaching yoga?
I love so many things about teaching yoga. If I had to single it down to one thing, I think it would be the gift of witnessing other people make transformative changes in their own lives because of yoga.
How has yoga and meditation changed your life?
Yoga saved my life. Yoga first helped me come back into my physical body after years of living disconnected from it. Yoga helped me first to accept and trust my physical body again. Once I was able to do that, I started to accept and trust myself. Eventually, I began to connect to and trust in something greater than myself.
Why do you teach at Bella Prana?
I moved to Tampa in May 2019, and Bella Prana gave me a space to practice, connect, and call home from day one. Bella Prana has been incredibly supportive of my work with Yoga 4 Change and has even provided a space to offer community classes weekly. Additionally, Bella Prana has been a support to me personally as I have navigated through ups and downs over the past year and a half. I feel very grateful for being welcomed into the Bella Prana community.
Tell us a fun fact about you.
I am an avid open water swimmer, and I love big waves!
 
Need a wake up to your Wednesday hump day? Join Susie at 6:00am for her weekly Hot Power Hour class at Bella Prana Yoga and Meditation, Tampa, FL. You can also find this class and more on Bella Prana's online yoga studio by visiting bellaprana.com. Voted Best of Bay!