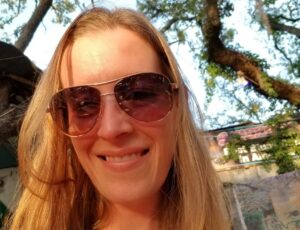 Our Desk Angels are the backbone of our studio and we are delighted to highlight, LisaBeth Sinclair, as our November 2020 Desk Angel of the Month. LisaBeth shines bright at our front desk. Her desire to serve and help others in whatever way she can inspires us. She truly nourishes Bella Prana during her shifts and goes above and beyond to keep our shared space as clean and tidy as possible. We appreciate her existence and commitment to making others feel at home on their mat! We are honored and delighted to feature, LisaBeth Sinclair, as our Desk Angel of the Month for November 2020.
What brought you to yoga?
Initially, I began yoga as a means of exercising my body as well as a moment to take time for myself.
How has it impacted your world?
Yoga has become so much more than a form of exercise. Yoga is a big part of my daily life. I am still learning how to breathe and be kind to myself. It is a process and one that takes time, patience, and most of all perseverance.
The tortoise didn't beat the hare in a race because he was faster:)
What advice can you give to those who are just beginning their practice?
I believe it is important to have an open mind, a solid commitment and patience with oneself in the beginning of anyone's practice.
Why are you a Bella Prana Desk Angel?
Bella Prana has always been a place of peace for me. The ambiance and fellow yogis of Bella are a big part of this peace. I always look forward to my shift time at Bella. If you love what you do, you will never work a day in your life. I am finding this to be true.
Share a Favorite, Healthy Recipe to share with our Yoga community.
Easy Slow-Cooker Chicken Quinoa Chili Recipe
https://foodbabe.com/easy-slow-cooker-chicken-quinoa-chili-recipe-bonus-time/
Visit Bella Prana Yoga and Meditation, Tampa, FL and say hello to our Desk Angels that will make you feel at home.  You'll find LisaBeth at the desk and also on the mat, giving herself much needed self-care.