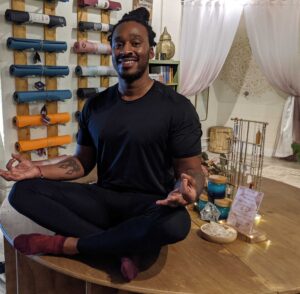 There is something quite magical when you attend one of Jirod's classes. His presence is peaceful and it radiates throughout the studio. His calm and tranquil voice results in instant presence of being in mind and body. And his connection to his community is so powerful. We are delighted to spotlight Jirod Webb, as our November Teacher of the Month. Cheers to you Jirod!
When/how did you discover yoga?
I discovered yoga on the beach when I was in the Dominican Republic by myself in 2016. It was magical and exactly what I needed. It changed my life forever.
What do you love about teaching yoga?
Teaching yoga allows me to connect with humanity in a vulnerable and authentic way.
How has yoga and meditation changed your life?
Yoga and meditation have changed my life by allowing me to be aware of myself in a holistic way. I tap into my unconditional love for myself and all beings and I accept my emotions to be more kind to myself and to others.
Why do you teach at Bella Prana?
I teach at Bella Prana because I love the space the vibe and the people are amazing. Roni is an amazing human being.
Tell us a fun fact about you.
I went swimming with the dolphins in the ocean no tank!
Have you tried Yin Yoga yet? Jirod sets the tone on Tuesday and Sunday mornings with a Yin yoga practice that is sure to inspire and fill your cup. He can also be found at the studio on Wednesday nights for a Beginner's practice and a soothing Gentle Yoga practice on Saturday mornings. You can reserve your spot in one of Jirod's classes at bellaprana.com. Bella Prana Yoga and Meditation can be found on West Platt Street, Tampa, FL.